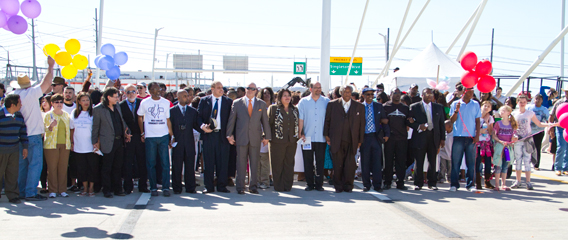 How America's 11th poorest zip code is being transformed
The Calatrava Bridge grand opening this has brought additional attention to the transformation occurring in the nations 11th poorest zip code in the nation- West Dallas.
Lost in the celebration of drop in crime, economic changes, and speculation about how the transformation occurred, are long time players that represent pastors, neighborhood leaders, nonprofit servants, strategists, and public officials.
Those leaders were honored recently at a breakfast sponsored by West Dallas Chamber of Commerce and Strategic Justice Initiatives. Dallas Mayor Mike Rawlings, Congresswoman Eddie Bernice Johnson, and local officials joined more than 160 pastors, clergy, and lay leaders at the Goodwill Center event.
No one knows better the pain of the past suffering and injustice than long time local leaders who grew up in West Dallas. A short film released in 2008 that chronicles West Dallas long held position as the "forgotten step-child" of Dallas, (where minorities and toxic waste were discarded together), reminds viewers of just how far this area of the city has come. (Click here to see the film)
The celebration breakfast emphasis that the spiritual community played a major role in transforming West Dallas is rarely mentioned in local and state media. It wasn't lost on the political leaders in attendance however, who honored local clergy and their importance.
The following Sunday, over 100 pastors and lay leaders prayer walked across the Bridge to ask God's blessings in seven key areas of culture in Dallas.
One of the best kept secrets of West Dallas transformation, is Builders of Hope buyout of nearly 300 slum properties between 2005 and 2008, and introduction of a new affordable housing model. Led by CEO Norman Henry, the community development corporation takes a pro-business approach to poverty and housing.
Henry was honored at the breakfast event with a Congressional recognition award presented by Congresswoman Johnson.
No community changes without a strategic blue print, especially one riddled with decades of injustice and purposely established to deny economic empowerment to minority residents.
Local residents like Pastor Arrvel Wilson worked with city officials to bring economic change, along with business leader, Phil Wise (who helped create the concept of the Greenleaf Village Neighborhoods that replaced the largest projects in the US west of the Mississippi).
Most city leaders were reluctant to address the reasoning behind city officials in the 1950's who purposely denied minorities homeownership, thus causing the city of Dallas to lag in economic development for minorities. In 2000, a group of Dallas business and religious leaders concerned about the cities high crime, poverty, racial conflict, and economic disparity began a series of meetings to confront these issues.
They invited a Strategic Justice Initiatives, Inc. (SJI), an educational nonprofit for the development of safe homes, safe schools, safe communities to Dallas. The organization is noted for it's specialized work in communities with high crime and poverty, using a five-phase template.
SJI launched Transformation West Dallas, a five phase process begun in 2003 with a detailed Research and analysis of the target community. Once this was completed, a series of Cast the Vision luncheons about the Transformation West Dallas model was introduced to business, church, and community groups in 2004 and 2005, hosted by business leaders Jim Beckett and the late Frank Miller.
Key partnerships were developed in and outside the target community for support and implementation in 2005 – 2006, including the faith based U.S. Justice Department Weed & Seed anti-crime program. The program has just completed its three- year grant cycle and is credited for the drop in crime. Today, West Dallas ranks as one of the safer communities in Dallas, with fewer violent crimes than wealthier parts of the city.
The drop in crime began on a summer day in 2007 with a community wide event: Community Wake-Up Call Rally: Bless West. Kicked off by former Dallas Mayor Tom Leppert, the event centered on launching the spiritual, economic, social, and physical model of transformation. Three Dallas Police Department patrol cars assisted in prayer walks among the most crime ridden neighborhoods, and reported no crime that day in the heat of the summer. Crime then dropped double and triple that of the city in the months and years to follow.
Bless West was then followed by a twelve month program for Community Action and Mobilization in 2007-2008 which continues today. The recent prayer breakfast was another in a series of events as part of the five phases.
Local West Dallas elementary schools have been reclaimed by the work of Mercy Street Ministries, as the local high school. Job programs are in their fourth year with Builders of Hope and the more recent programs launched by HIS Bridgebuilders aggressive job training facilities located in West Dallas DHA properties. Voice of Hope Ministries leads the area in feeding and after school and summer programs, while Bill Herrod Helping Hands is opening a new facility to assist in hunger among thirteen impoverished neighborhoods.
With the recent pastors engagement, SJI hopes to empower the local 112 church congregations this year with food pantries, project partnerships, discipleship and training, and support from larger church congregations outside West Dallas.
Today, the Transformation of West Dallas is an exciting story that is receiving notice due to the comprehensive cooperation among West Dallas non-profits, churches, and government agencies. The servant leadership by West Dallas organizations is a model for other communities to follow.
Please consider supporting our partnership with local West Dallas pastors, neighborhood associations and nonprofits by donating online at www.feed3.org Or mail check to:
SJI, 2114 Iroquois Drive. Dallas, Texas 75212
About Strategic Justice Initiatives Inc. - SJI in 2009 became involved in laying the groundwork for the citywide movement called the Greater Dallas Justice Revival. SJI was the parent nonprofit for it till 2011 when its mission of starting 25 school church partnerships, and placement of 700 chronic homeless into housing were accomplished. SJI then launched www.homesforourneighbors.com as the faith partner for Dallas Housing Authority and Metro Dallas Homeless Alliance support of 2000 chronic homeless were placed into permanent supportive housing. www.feed3.org was launched to support the school-church partnerships and hunger projects throughout North Texas. Both efforts carry on the misson of Greater Dallas Justice Revival.
To help end hunger and poverty in our region, please consider a generous donation: Click here:
Give Now