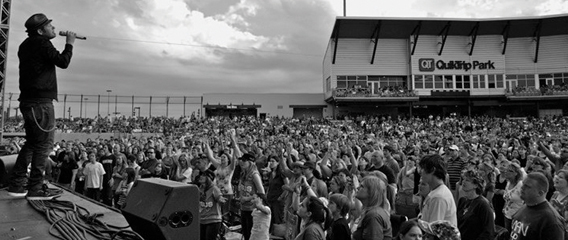 More than 7,000 attended the May 1, 2010, concert with Grammy Award winning artists TobyMac, Casting Crowns, 10th Ave North, and Caleb in Grand Prairie, Texas. The event was for raising awareness among the local community about the more than 400,000 children in Dallas County and 170,000 children in Tarrant County who face a hunger crisis this summer.
Over 2,500 pack backs were distributed among attendees, who were asked to take boxes of 25 back packs each, to their church, non-profit, business, and/or families, accepting the challenge to fill the back packs with nutritional items. These back packs were distributed to local schools and non profits who are not part of the North Texas Food Bank extensive back pack program due to a shortage of funds.
The event sponsored by radio station KLTY and Twenty Ten Mission, was the first of future partnerships with major artists in the Christian, Country, and Pop entertainment fields, that the FEED 3 will hopefully utilize the public on the current hunger crisis.
If you or your organization is interested in being a part of a similar outreach for this summer, please click here to download a list of instructions.