Summer Hunger Increases and FEED 3 Expands In Texas
Summer is the hungriest time of year for over 2.5 million children in Texas. FEED 3 has grown to 27 locations for summer feeding programs in Dallas and San Antonio which provide healthy food and safe environments in the summer.
While leaders from both political parties have joined forces to raise alarm over the 17.4 million U.S. families that do not have access to sufficient food, FEED 3 summer feeding programs increased to 27 sites in 2013. The nearly 120,000 meals and snacks served in 2012 are already being surpassed this summer.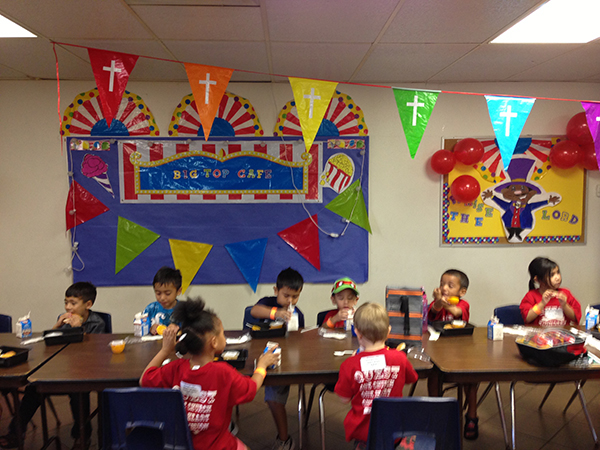 "We are working to provide solutions to hunger with a new model. We are involving the business community with their expertise to support and increase the number of feeding centers in Texas neighborhoods," explains.
Randy Skinner, Executive Director of FEED 3. Skinner has worked on Hunger Task forces in Texas, Washington, D.C. and is the Hunger Representative for Dallas Mayor Mike Rawlings.
The FEED 3 model works with local churches and nonprofits to provide a healthy breakfast, lunch and snacks to children under 18 years of age. Larger sites such as Oak Cliff Bible Fellowship and Concord Church run summer long programs for children, allowing them to have a safe learning environment. This is especially important to working parents, who cannot afford daycare or expensive summer camps.
One such site, Care Center Ministries, feeds hundreds of children during the summer months. With costs covered through FEED 3 partner, Strategic Justice Initiatives, Inc., sites are able to use their funds to run summer programs.
Bishop Jimmy Slater, a South Dallas pastor who also runs the Care Center Ministries summer programs, says: "Without FEED 3, we would not be able to cover the costs of feeding the kids, and at the same time have quality summer programs that keep these kids engaged."
Upwards to 300,000 children in North Texas have limited access to food during the summer months. Slater says: "We are blessed to help kids who would not have eaten this summer with nutritional meals through FEED 3. They also provided Physical Ed equipment and games for our campers!"
Sadly, Texas ranks among the top states forfood insecurity.With a $100 billion agriculture industry hard at work each day, Texas is a powerhouse of productivity, which makes our hunger situation unacceptable and even more troubling. Nearly 87% of DISD children qualify as living in poverty.
FEED 3 is Part of the Solution
FEED 3, Inc. and its partner Strategic Justice Initiatives, Inc. (SJI) have joined forces to tackle hunger in poor communities with a pro-business approach. The Summer Nutrition Programs (SNP) provide healthy meals each summer to children in low-income communities and serves nutritious meals to children in safe, enriching environments during the summer.
Because food costs are the largest budget item for many churches and nonprofits running summer programs, a partnership with SJI provides the meals, while FEED 3 helps supplement costs with product, character education, along with church and business partnerships.
The programs are critically important to ensure every child has the chance to grow into a healthy and productive adult. Texas has one of the largest populations of poor children, more than 2.5 million that rely on the National School Lunch Programs (NSLP). The Summer Nutrition Programs (SNP) are intended to serve the same population, yet it reaches only a fraction of the children who eat lunch during the school year.
Help is Needed to Expand
There is a need for more Summer Feeding Centers in every community across the state. Churches, nonprofits, apartment complexes, and schools can become a site for summer feeding. If you know of a organization that might be interested in this program, please let them know about our summer feeding program.
Spread the Word
The best advertisement is word of mouth, followed by social media. FEED 3 would like to encourage business and church leaders to learn more about the Summer Food Service Program (SFSP), get involved and pass a resolution in support of participating sites. Business leaders could host a corporate luncheon to discuss food insecurity in their community as well as mentioning this as a topic for discussion with other groups.
For more information about FEED 3 and partner Strategic Justice Initiatives Inc. summer feeding programs or one of its 27 sites, please contact :
Randy Skinner
(214) 316-1356
Ashley Douglas
(214) 497-4430
Please feel free to contact us with any additional questions or concerns at any time! We will be happy to assist in any area, and would be delighted to have your organization as a participant within our program this year!
Your tax-deductible gifts can also be mailed to Strategic Justice Initiatives. P.O. Box 222026, Dallas, Texas 75222.

About Strategic Justice Initiatives Inc. - SJI in 2009 became involved in laying the groundwork for the citywide movement called the Greater Dallas Justice Revival. SJI was the parent nonprofit for it till 2011 when its mission of starting 25 school church partnerships, and placement of 700 chronic homeless into housing were accomplished. SJI then launched www.homesforourneighbors.com as the faith partner for Dallas Housing Authority and Metro Dallas Homeless Alliance support of 2000 chronic homeless were placed into permanent supportive housing. www.feed3.org was launched to support the school-church partnerships and hunger projects throughout North Texas. Both efforts carry on the misson of Greater Dallas Justice Revival.
To help end hunger and poverty in our region, please consider a generous donation: Click here:
Give Now