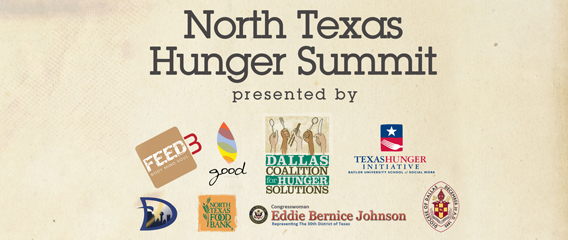 Please join Mayor Mike Rawlings, Congresswoman Eddie Bernice Johnson, USDA Washington DC and Regional officials, and local officials to help end hunger in North Texas.
The purpose of this event is to educate the public and concerned business leaders in the region and to form a Food Planning Association to help end hunger in our region.
The day's featured speakers will discuss the causes and effects of hunger in the Dallas area, but more importantly, participants will come away with the knowledge and tools to ensure that every child in Dallas has access to three meals a day, seven days a week.
HOSTED BY: USDA, Texas Hunger Initiative, Texas Baptist Christian Life Commission, Texas Food Bank Network, North Texas Food Bank, Feed3, CitySquare, and the Dallas Farmer's Market.
WHO SHOULD ATTEND: Church leaders, Non-profit leaders, School Officials, Public Officials, Buisness Leaders, Concerned Citizens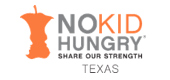 is generously sponsered by Walmart and Maximus
WHAT:
Texas No Kid Hungry Dallas Summit
WHEN:
Wednesday, Nov. 9th
9:00 am - 12:00 noon
(Registration starts 8:30)
WHERE:
Dallas Farmer's Market
1010 S. Pearl Expressway
Dallas, TX 72201
(click here for map)
RSVP: By November 2nd
Click here to RSVP
---
DALLAS, Nov. 9, 2011 / GDJR NEWS WIRE
Dallas Mayor Mike Rawlings spoke Wednesday to the North Texas Hunger Summit declaring that Dallas would become a "No Kid Hungry City" and a Food Planning Association would accomplish this goal.
The summit was hosted by 30th District Congresswoman Eddie Bernice Johnson who moved to action after viewing a local non-profit video on hunger.
The video created by FEED 3, a local educational nonprofit focused on addressing hunger and poverty in North Texas, revealed that over 380,000 North Texas children are challenged with hunger. The summit held at the Dallas Farmers Market, included governmental agencies, non-profits, local community food pantries, and business leaders.
Congresswoman Johnson shared passionately her desire to end hunger in the 30th District where some of the most impoverished counties of Texas exist. Determined to follow through on her commitment, Johnson's staff worked over the past nine months with local non profits to assist in launching a Food Planning Association. Local organizations such as CitySquare, a leading nonprofit that addresses hunger with families and children, FEED 3, North Texas Food Bank, DISD, USDA, Greater Dallas Justice Revival, Texas Baptist, and local food pantries are key partners in forming the local food planning association.
The Food Planning Association (FPA) will take a close look at where child hunger needs are greatest in the area, and will then work to implement programs there. Some of the key objectives will be to ensure the delivery of $500 million in federal dollars to local impoverished neighborhoods, increase enrollment of children in school breakfast, lunch and summer feeding programs, development of local neighborhood nonprofit and church food pantries, construction of grocery stores in "food deserts", and the development of community gardens and healthy lifestyles.
Also involved in the North Texas Hunger Summit was the Texas Hunger Initiative. "Kids who face hunger fall behind in virtually every way, and the Texas No Kid Hungry Campaign seeks to connect children at risk of hunger to programs that can provide regular, nutritious meals," Jeremy Everett, director of the Texas Hunger Initiative, said.
"Child hunger is a serious issue in Dallas and surrounding communities, but the good news is that we have the resources to solve it," Congresswoman Eddie Bernice Johnson said. "The group of talented and strategic partners at this hunger summit is dedicated and will help ensure our children are fed three meals a day, every day."
Dallas Mayor Mike Rawlings, said."We have the necessary programs funded and in place to make certain that every child in Dallas receives the food they need to excel in and out of the classroom. By working together, we can guarantee easy access to these programs for those most in need—our children at risk of hunger."
"We are determined that Dallas will not be the face of Hunger," FEED 3 Director Randy Skinner said. Skinner, who was appointed by former Mayor Tom Leppert to help end hunger in Dallas by 2015, continues to work with Mayor Mike Rawlings in that role. "We are blessed to have public leaders like Congresswoman Johnson and Mayor Rawlings who have dedicated their lives to making Dallas a great city for future leaders, our children".
For more information on how you can become involved in making Dallas a "No Kid Hungry City" please contact us at: www.feed3.org.
Related Links: www.dallasjusticerevival.com
www.citysquare.org
www.baylor.edu/texashunger
www.Strength.org
DALLAS - FEED 3 MEDIA REPORT
A new study on Dallas County impoverished and hungry children follows the recent North Texas Hunger Summit hosted by Dallas Mayor Mike Rawlings and Congresswoman Eddie Bernice Johnson.
The 2011 Beyond ABC annual report by Children's Medical Center is the most comprehensive review of the quality of life for area children. It reveals that nearly one-third of Dallas County children live in poverty, an astounding number considering the amount of wealth and resources in the county.

The report parallels the North Texas Hunger Summit report that an alarming 192,502 of the 654,263 children in the county live in hunger and poverty. The report reveals that the Dallas Cowboys Stadium could be filled twice overflowing and still not account for the number of Dallas County children affected.

The report revealed that 18% of Dallas County children has no private or governmental health insurance in 2010 (double that of the nation's 8%), that 250,000 county children were on Medicaid, and 60,000 county children were on CHIP (Children's Health Insurance Program).

Other alarming statistics revealed that there was a 39% increase in child abuse or neglect, and that an average of 20 children dies each year from abuse or neglect in the county.

The report found some other disturbing facts:
About 28 percent of Dallas County children - more than 183,000 - have inadequate food and poor nutrition. While children are becoming more malnourished here, they also are becoming overweight. One-third of high school students are estimated to be overweight or obese.
This year, seven out of every 10 children in public schools are eligible for free- and reduced-price meals, a substantial increase since 2000.
In 2010, more than 45 percent of babies born in Dallas County were born to mothers who had received inadequate prenatal care. However, the infant mortality rate has been on a consistent decline since 2006.
More than one-third of Dallas County children were not fully immunized in 2010, according to a National Immunization Survey by the Centers for Disease Control and Prevention.
Dallas County has up to 40 days of unhealthy air quality per year, contributing to asthma in children of all income levels, the report found.
As a part of addressing many of the alarming statistics found in the governmental agencies report at the North Texas Hunger Summit, and found in this newly released report, Mayor Mike Rawlings and Congresswoman Eddie Bernice Johnson have established a Food Planning Association for Dallas which will access these challenges and work toward solutions.
Appearing on CBS affiliate CBS 11 TV / TXA 21 TV in Dallas early Monday morning, FEED 3 Executive Director Randy Skinner said: "This is a devastating report that continues to show the vast amount of hunger in the DFW area. With over 192,502 children in Dallas County, that number doubles when we include the 10 counties surrounding Dallas, adding in the 140,000 plus for Tarrant County. This is a hunger and poverty crisis."

FEED 3 is a pro-business approach to eradicating hunger by partnering businesses and local schools to feed children (Feed the Body), character programs in inner city schools to increase graduation rates (Feed the Mind), and developing business solutions for poverty that involve churches, non-profits, and community leaders (Feed the Soul).
EVENT DETAILS FOR REPORT
The Assessing Children's Health in Dallas County symposium will be held at 10 a.m. on Nov. 14, 2011, in Moore Auditorium at Children's Medical Center in Dallas, 1935 Medical District Drive.
For more information on the North Texas Hunger and Health Crisis for children, please visit www.dallasjusticerevival.com and www.feed3.org.
To help end hunger and poverty in our region, please consider a generous donation: Click here:
Information from this news report were compiled from area news sources and Beyond ABC: Assessing Children's Health in Dallas County published by Children's Medical Center.