How a Woman's Prayers Helped Change Violent Neighborhood
When five elderly women began meeting faithfully each week in 1985 to pray for their violent and impoverished community, little did they know that one day they would have a community center which would touch thousands of lives.
Twenty years of prayers would not only open the door for a new community center, but also open the door for see the eventual tear down of 325 drug houses in West Dallas.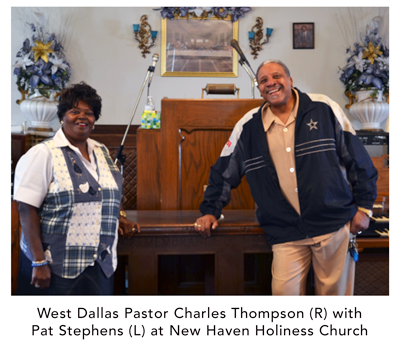 West Dallas community leader Pat Stephens' prayer group of seven women plus Pastor Charles Thompson at New Haven Holiness Church, helped launch the Westmoreland Heights Neighborhood Center.
The center built in 2005 has become the nerve center for community transformation, opening the eyes of hundreds of children to greater opportunities outside of West Dallas, and presenting a new concept for hunger relief.
On Monday, December 21st, former Dallas Mayor Tom Leppert, will be among the community leaders honoring Stephens at her annual Christmas outreach and helping raise funds for a needed renovation.
Stephens was introduced to FEED 3 Founder, Randy Skinner, in 2005 through a prayer meeting. Skinner, in turn, introduced Stephens to the largest condo-apartment builder in the nation, JPI and its founder, the late Frank Miller.
Miller was so touched by Mrs. Stephens' story that he offered to help build the community center at cost. Along with his corporate partners, Miller also offered to launch Skinner's West Dallas Transformation Project by buying out twenty-five drug houses in Stephen's crime ridden neighborhood.
"I remember attending these prayer meetings at the little humble church with the five women praying for the community. As a result I began identifying the drug houses block by block and by working with Builders' of Hope and JPI, we bought those houses and replaced them with good healthy families." Says Skinner.
Skinner and Builders of Hope founder Norm Henry, would, within the next three years, raise over $6 million to buy out an additional 300 slum houses to be torn down or improved. This transformed West Dallas from one of the most crime-ridden communities into one of the safest.
Stephens' center has become the central focus for senior citizens living in the area, a twice weekly food cooperative owned and funded by the local residents, and regular summer trips across the United States for students who do well academically during the school year.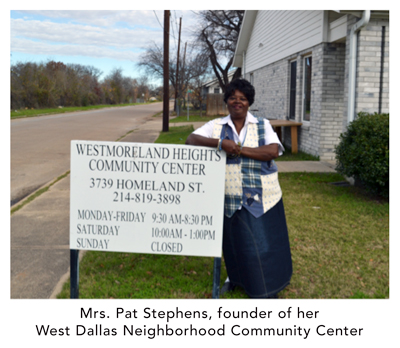 "We've taken West Dallas students to Washington DC, Memphis, Orlando, New Orleans, Los Angeles, Miami, Atlanta, and New York City." says Mrs. Stephens. "Many had never been out of West Dallas, but today they've seen the whole nation and what opportunities are out there for them." These trips are funded by local bake sales and the proceeds from the center's outreach.
West Dallasites, after twenty years of prayers, labor, and the entrepreneurial spirit of local leaders like Mrs. Stephens, have seen their community become some of the safest in Dallas and the beginnings of an economic revival.
"Ms. Pat (as locals call Stephens) is what I call "organic charity" says Skinner. Sadly, the majority of charity today is toxic, meaning that it enables the recipient to remain in a welfare state, never empowering them to actually own the solutions to the challenges they face. Government programs too often reward dependency and penalize creativity and local ownership of programs that solve poverty and hunger."
Local developers have donated $20,000 in construction cost for renovations to the community center. An additional $30,000 is needed to build a new kitchen and add other updates for the fifteen-year old center. Those wishing to donate to help the renovation effort can donate at www.feed3.org and designate for the Westmoreland Heights Center.
Former Dallas Mayor Tom Leppert, who served as Dallas mayor for four years and was personally involved with West Dallas nonprofits for over a decade, will recognize Mrs. Stephens' work. Mercy Chefs, a national disaster relief agency will provide meals that evening for about 300 family members from the local community at Dallas West Church of Christ at 6 pm.
For more information on opportunities to serve with one of the four action teams of the Dallas Coalition for Hunger Solutions, please contact us: info@feed3.org or
For more information about FEED 3 and partner Strategic Justice Initiatives Inc. summer feeding programs or one of its 27 sites, please contact:
Randy Skinner at info@feed3.org
Your tax-deductible gifts can also be mailed to Strategic Justice Initiatives. P.O. Box 222026, Dallas, Texas 75222.

To help end malnutrition, hunger and poverty in our region, please consider a generous donation: Click here:
Give Now