Summer is Here So That Means Hungry Kids!
Summer is here and so is hunger for over 150,000 Dallas area school children, and up to 300,000 children in North Texas. More than 16 million across the U.S. will experience hunger this year.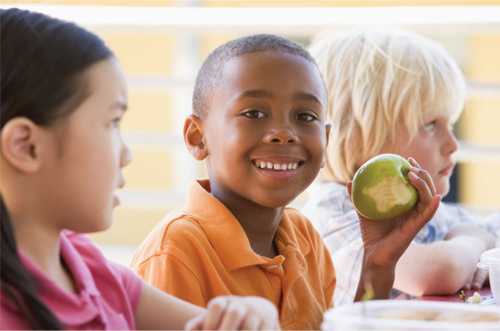 When these hungry children were in school, they relied on cafeteria meals subsidized by the U.S. Department of Agriculture. In many DISD schools, up to 83% of the kids will go hungry during the summer months without the school breakfast and lunch program.
So where do these kids eat during the summer? They will spend the next few months eating leftovers from neighbors, eating junk food that's cheap and affordable, and learning to live with the growling stomach, headaches, and fatigue that goes along with hunger.
Pastor Keahey at Antioch Church in Dallas knows hunger well. He runs a summer feeding program that provides breakfast, lunch and snacks for up to 400 kids a day. The program is run by local nonprofit Strategic Justice Initiatives.
Pastor Keahey's church office is filled with snacks for kids who appear at his church and whom he knows are not getting fed at home. A recent visit to Pastor Keaheys office revealed his passion for hungry children. "We spend tens of thousands of dollars each year feeding hungry kids, our church members do food drives to keep our church pantry filled for needy families" says Keahey.
Help Now
Visiting the inner city, and other well-known churches like Concord Missionary Baptist and Oak Cliff Bible Fellowship, finds similar scenarios. Gyms full of students playing basketball and other coordinated activities, classrooms teaching computer skills to students, and healthy summer meals prepared to make sure students are eating. These students will return to school more healthy and better prepared mentally and physically.
Hunger Task Force
Schoolchildren gather for lunch at a summer school site.
"Sadly, these children are used to this scenario", says Randy Skinner, whose nonprofit feeds over 1000 children a day during the summer months. "Every Friday these same children are apprehensive of how they will face empty pantries in their homes, and can't wait to return to school each Monday, simply to eat."
Skinner, who also lives in the inner city, says it's not uncommon for his own elementary age children to return from a neighbor's home, and share about empty shelves and refrigerators. "Our two daughters, age 9 and 12 are very familiar with loading up boxes of groceries to take to their friends homes" he shared.
Visiting the Fair Park community of South Dallas, and the local City Church International feeding program, finds a scene out of a third world country. Children line up seeking help from aid workers handing out sandwiches and drinks, and small bags of groceries to parents. It's a scene played out throughout North Texas on a daily basis.
Task Force formed to change Hunger Challenges
Skinner, who represents Dallas Mayor Mike Rawlings for the local hunger task force, says that concerned leaders about North Texas hunger challenges are working together.
The hunger task force, called the North Texas Food Planning Association has local businessmen, nonprofits, churches, federal, state, and local official involved.
The task force is looking at food cooperatives, urban farms, and community gardens to help bridge the gap of hunger in poor communities.
While urban communities face increased hunger, most people are surprised to realize that an equal amount of hunger exists in rural areas, where obstacles are even greater.
While North Texas school children have to overcome walking to area schools in unsafe areas, rural school children have no way to get to the feeding sites, with both parents working.
Transportation in the countryside is also a big issue for the kids. No school bus is operating and their parents are likely working, but the distances are too far to walk.
One aid worker recalled her encounter with a boy who looked to be about 10 years old in a rural community where one out of five children, lives in poverty. The youngster rode his bike each day to a park where lunch was served and had just heard on a mid-August day that the program was finished for the season.
"What will I do for the next two weeks before school starts?" he asked.
"I just looked at him," she recalled. "And I worried about it a lot."
Your tax-deductible gifts can also be mailed to Strategic Justice Initiatives. P.O. Box 222026, Dallas, Texas 75222.

About Strategic Justice Initiatives Inc. - SJI in 2009 became involved in laying the groundwork for the citywide movement called the Greater Dallas Justice Revival. SJI was the parent nonprofit for it till 2011 when its mission of starting 25 school church partnerships, and placement of 700 chronic homeless into housing were accomplished. SJI then launched www.homesforourneighbors.com as the faith partner for Dallas Housing Authority and Metro Dallas Homeless Alliance support of 2000 chronic homeless were placed into permanent supportive housing. www.feed3.org was launched to support the school-church partnerships and hunger projects throughout North Texas. Both efforts carry on the misson of Greater Dallas Justice Revival.
To help end hunger and poverty in our region, please consider a generous donation: Click here:
Give Now