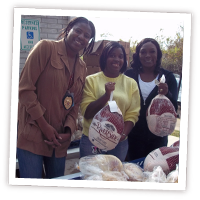 More than 600 families received groceries for a week during thanksgiving and another 400 received groceries for a week during the month of November. As part of the FEED 3 program, sites are being chosen throughout high poverty areas to provide 100 families per week groceries. The first two sites are located in West Dallas, with additional sites to be added as funding permits. During the Thanksgiving holidays, an additional site was added in Ft. Worth. Each family received a turkey, ham, hens, as well as fresh vegetables and fruit, along with additional groceries.
The FEED 3 project is the brainchild of a collaborative effort by Greater Dallas Justice Revival Director Randy Skinner, Heart of A Champion Director Steve Riach, and creative consultant Russell Lake of Eterné Films. The project has three focuses: Body, Mind, and Soul. This past summer, FEED 3 began working with People That Care, a Grand Prairie based nonprofit who has been helping coordinate the food distribution with national food providers. Ron Woodcock, coordinator for the FEED 3 project shared: "It is unbelievable the amount of families who are in need of food assistance in our city".
The Feed 3 segment that focuses on hunger is entitled Feed the Body. It consists of making sure the more than 280,000 children in the greater Dallas area that face hunger, have a meal. This is accomplished through the following:

Make sure every needy family is signed up for government assistance to receive WIC or SNAP funds that are available, but not being utilized. In a new pilot project, the USDA, Health and Human Services and local support organizations are working with the Justice Revival to train local volunteers in neighborhoods to fast track the registration process. This will began next year.
While families may receive government assistance, there is still a gap among working class families and the poor to make up the gap to feed their families. This is where the FEED 3 sites have been helpful. The goal is to place a FEED 3 site in each community, where needy families can receive additional food, especially fresh fruit and vegetables. Additional sites will be added as food and funds become available.
Providing backpacks for children on weekends and summer months that have no food other than the school lunch programs. In 2010, FEED 3 provided food for hundreds of children through this program.
The development of school gardens, community gardens, and urban farms among low-income communities. Also, the development of vegetable and fruit stands in areas where no grocery stores exist. These areas are called "food deserts" and exist in south Dallas with populations as large as 30,000 people with no healthy grocery chain stores.
Please consider helping us expand our network of feeding sites in the DFW area.
Give Now